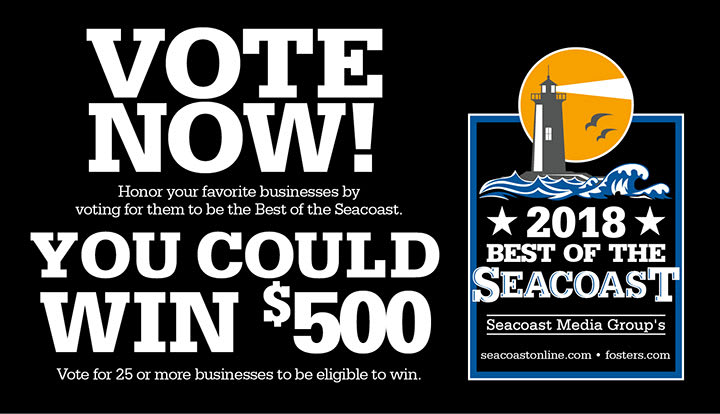 Please vote for Gentle Currents "2018 Best Acupuncturist of the Seacoast". Follow this link or click image and scroll down. You can vote every day June 25 through July 15th. Please do. And thanks. ~David Phreaner (Gentle Currents' unbiased fan.)

Community Acupuncture Days and Dates
>> First and third Thursdays, second and fourth Fridays...generally. See calendar below.
Community Acupuncture offers treatments in an open, shared healing environment at a reduced rate. The charge for treatments at the Clinic is $40/session. (For more information, click here.)
News: We're now live on Facebook and Twitter. Friend us and like us, please.
---
Practitioners/Practices at Gentle Currents
Gentle Currents Acupuncture Clinic
Lisa Rothermich, Lic.Ac., Director
Acupuncture is increasingly accepted as a form of complementary health care. Lisa was one of the founding members of the Board of Acupuncture Licensing in New Hampshire. Check Lisa's pages for details about her acupuncture practice, including testimonials. She has been in practice since 1991.
Beth Ann Schmitt, M.Ac.; Lic.Ac
Beth Ann graduated from the New England School of Acupuncture and received her license to practice in New Hampshire during the summer/fall of 2009. She holds a dual degree in Traditional Chinese Medicine and Japanese Acupuncture. To learn more about Beth Ann, click on the link above.
Learn about acupuncture TREATS -- Tomorrow's Relaxing & Energizing Acupuncture Tune-up Sessions.

Offices Available
Office space at Gentle Currents is available. If you or someone you know is looking for space in which to locate her or his practice, consider Gentle Currents. See Offices for more information. To arrange a tour of the Center and the Sunrise Room office, contact Lisa Rothermich at 603-436-6883.
Elements at Gentle Currents
Jan Hummel: Licensed Therapeutic Massage
Jan Hummel has practiced at Gentle Currents as a licensed massage therapist since 1998 and is licensed both in Maine and New Hampshire. In addition to massage therapy, Jan offers Raindrop Therapy and Hot Stone Therapy. Jan also offers hand-made massage oils using only therapeutic grade (the highest grade) essential oils.
~Lisa Rothermich and David Phreaner, Founders and Co-Directors